To understand current energy prices it may serve us to examine historical energy prices. Our theme is energy economics and specifically that energy prices follow the laws of supply and demand to set pricing.
There are some interesting perspectives on historical energy prices from several books including Security Analysis, 1940 edition by Benjamin Graham and David Dodd, The Great Wave, by David Hackett Fischer; and The Industrial Revolution in World History, by Peter Stearns. These books provide extensive data on pricing, industry revenues, and the framework that energy and technology serve in the economics of the industrial world.
Figure 1 Historical Energy Prices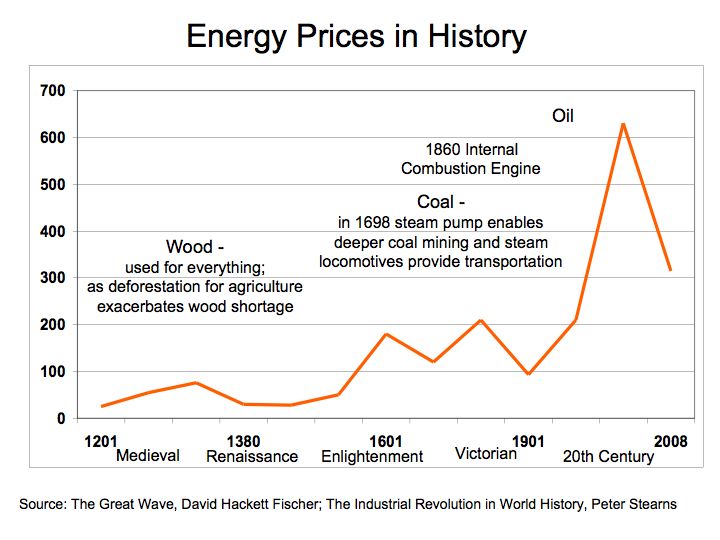 With the risk of oversimplification, our first figure shows there have been four distinct energy prices waves that have rippled through history. The scarcity of wood that was used for building homes, heating, and tools became increasing scarce as deforestation spread through Europe in the 1300s and followed again in the 1600's. Coal prices rose rapidly with the War of 1812 and the Napoleonic Wars. Oil prices peaked in 1982 and to an all time high of $145.16 on July 14, 2008.
Figure 2 Medieval Wood Prices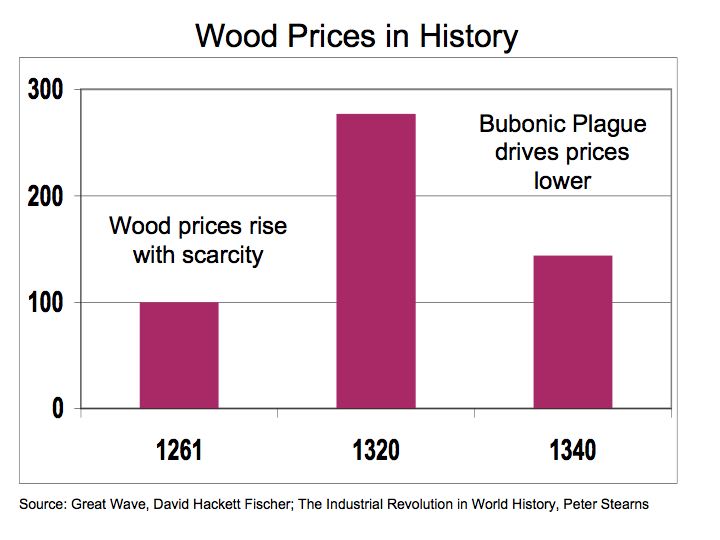 During the Medieval period in world history wood prices increased nearly threefold according to David Fischer in the The Great Wave. Wood prices rose with scarcity and peaked in 1320 as impact of the Bubonic Plague began to kill a quarter of Europe's' population. Twenty years from its peak in 1320, wood prices declined by 48% as the Bubonic Plague reduces the population and in turn, lowering the demand for wood.
Figure 3 Wood Prices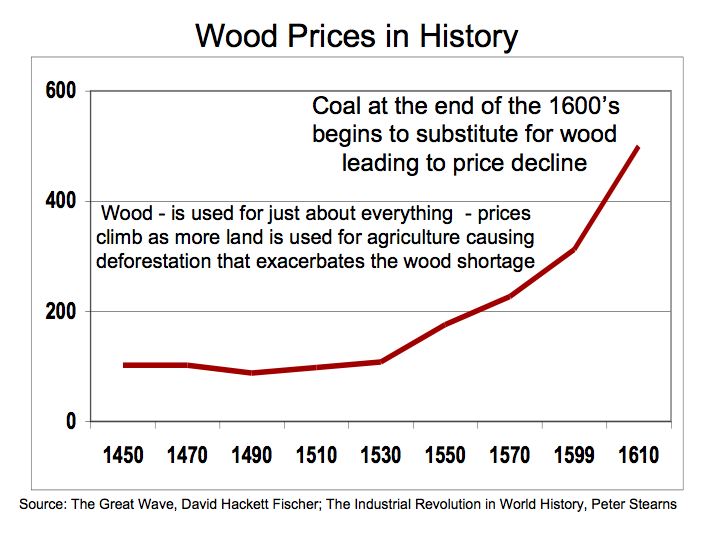 Figure 3. Illustrates the rapid rise in the demand for wood as the growing world populations benefited advances in science and agriculture from the Renaissance period. Wood is used for just about everything and prices climb as more land is used for agriculture leading to deforestation exacerbating the wood shortage. As demand for wood increases, prices subsequently follow. By the end of the 1600's, coal begins to substitute for wood as an energy alternative.
With advances in technology came improvements in coal mining and transportation that allowed coal to substitute for wood as an energy source. With the invention such as Thomas Newcomen's steam, powered pump in 1712 that facilitated coal mining and James Watt's steam engine in 1765 that lead to advances in transportation including railroads and machinery, coal grew in importance as an energy source. These advances in technology enabled greater supplies of coal to enter the market which lead to declines in energy prices.
Figure 4 Coal Prices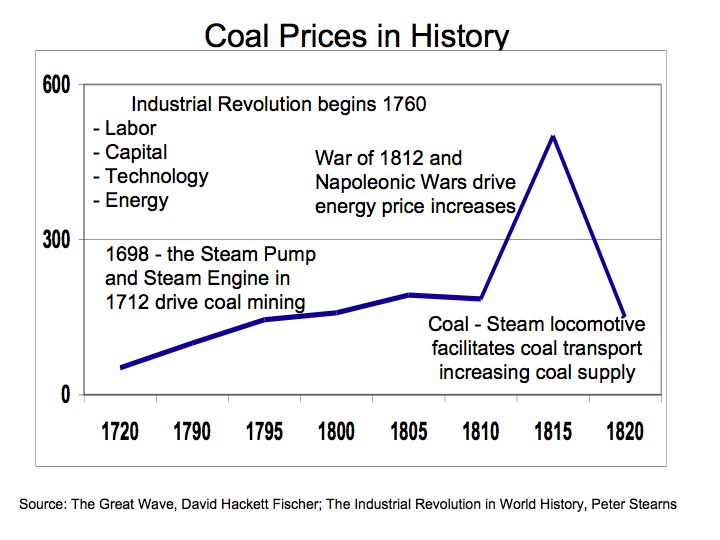 We can gleam from Figure 4 that coal prices peaked in 1810-to-1815 coinciding with the War of 1812 and the Napoleonic Wars. The technological advances in mining and transportations fostered the development of an infrastructure to support the coal industry. The price of coal rose as wars ragging in Europe and the US, increased the demand for materials and supplies such as coal. However, as the wars came to an end, the abundant supplies of coal allowed prices to fall keeping energy prices low.
Oil entered the picture with the drilling of the first oil well in northwestern Pennsylvania in 1859 and the Internal Combustion Engine in 1860 that facilitated the development of the oil industry.
As oil emerged to become the dominant fuel of the 20th Century, it's only recently that we face supply shortages. To better understand the dynamics of energy pricing in the face of changing demand, a review of spending on railroads and electricity may serve as a surrogate for discretionary and consumer stable spending patterns.
Figure 5 Industry Segment Revenues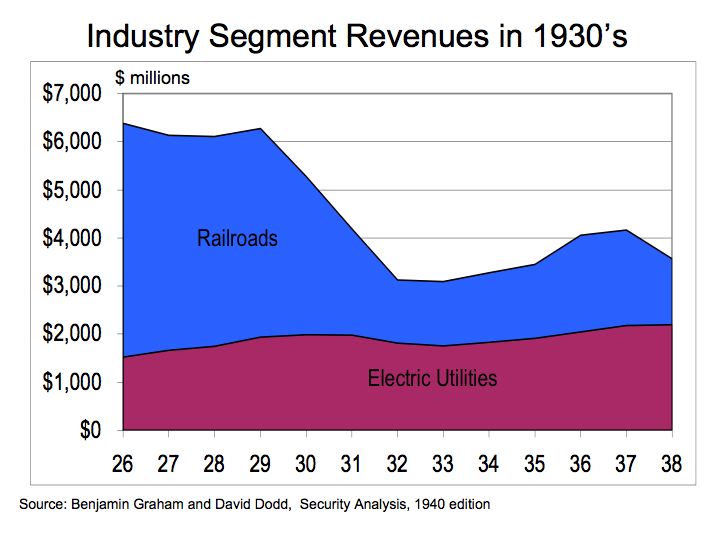 Figure 5 illustrates changes in the aggregate revenues of railroads in comparison to electric utilizes during the Great Depression. Copious notes taken by Graham and Dodd for their book Security Analysis help to demonstrate the economic laws of supply and demand.
The change in demand was most pronounced in railroad revenues. Expenditures on railroads, the more discretionary of the two industries, declined 51% from 1929 to 1993 as measured by gross receipts for the railroad industry. Over this same period, spending on the consumer stable, electricity only encountered a decline of 9%. In economic terms, railroads demonstrate greater demand elasticity meaning there is greater change in demand at prices change or this period, disposable income. While there is some discretionary portion of our spending associated with oil, a large portion of spending on oil is out of necessity. Therefore, even during times of great economic distress, the propensity for energy consumption is not eradicated entirely.
The bottom line: Energy pricing will continue to be dictated by supply and demand. Hydrocarbon fuels such as oil are finite in nature and therefore, without definitive strategies to cultivate alternative energy resources we will remain hostage to the vagaries in energy prices..