Seven Ways to Lower Energy Bills
1) Change your incandescent light bulbs to compact florescent lamps,
2) Check for leaks and cracks throughout your house where heat or cooling could escape or enter,
3) In winter, lower your thermostat and raise it a couple of degrees in the summer,
4) Replace outside lights with solar-powered LED devices,
5) Use your microwave to heat water for tea or before cooking with it on the stove,
6) Use cold water for laundry, use low flow shower heads, and turn off water when using soap or shampoo in the shower,
7) Clean air filters on A/C, refrigerators, and furnaces
What else can I do?
Alternative Energy Basics
A better understanding of energy basics will help you save money on your fuel and electric bills. The following provides a brief overview of the leading alternative energy solutions: solar, wind, and fuel cell energy technologies.
The following link is a pdf file with a presentation with a basic technology overview of solar, wind, and fuel cell energies.
Alternative Energy
Using Alternative Energy Will Improve the Economic future for Our Children
The following provides a brief overview of a few approaches to alternative energy. The four alternative energies reviewed are wind, solar, fuels cells, and solar hot water.
Figure 1 Wind Energy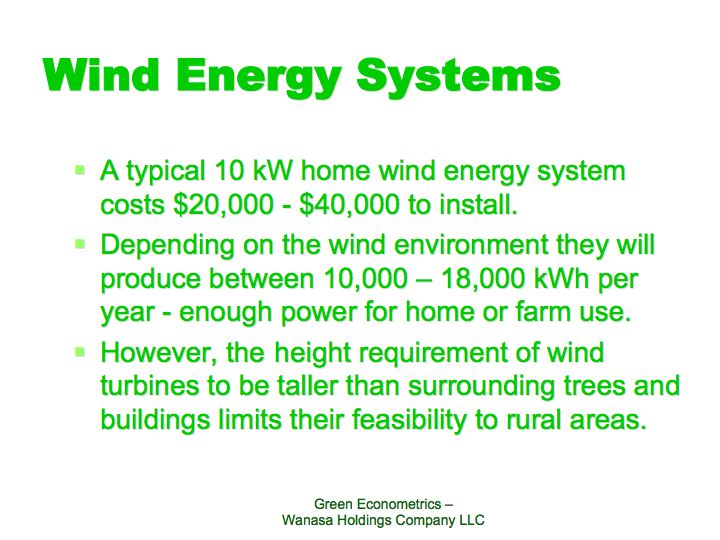 Wind appears as viable approach to home or business owners with at least an acre of land. Wind systems are efficient, cost less than solar cells, and can operate during the night if wind resources are available.
Figure 2 Wind Energy Systems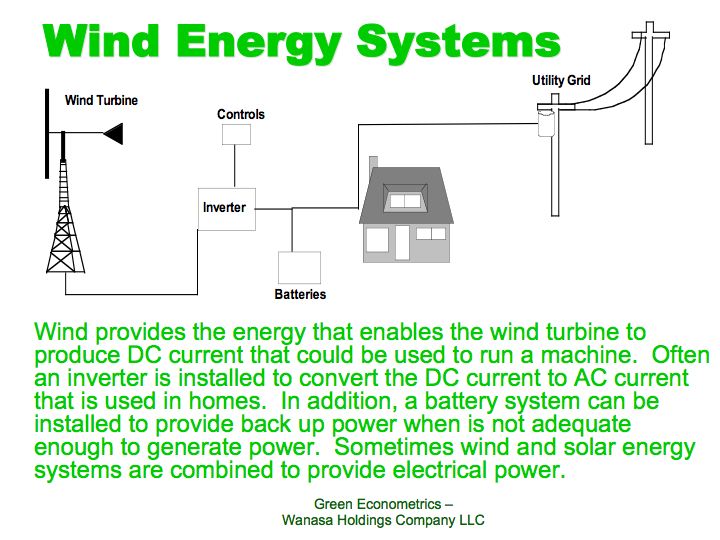 Solar energy systems have demonstrated significant improvement in efficiencies and prices are beginning to decline. Crystalline is most common for homes because it offers higher efficiencies requiring a smaller footprint in comparison to Thin Film solar cells
Figure 3 Solar Cells

With the declining price of photovoltaic materials and improving efficiencies, the economics of solar energy are beginning to become more compelling. Currently there are strong environmental considerations favoring solar, government financial incentives as well as a Supreme Court mandate to limit CO2 and rising energy prices.
Figure 4 Photovoltaic Device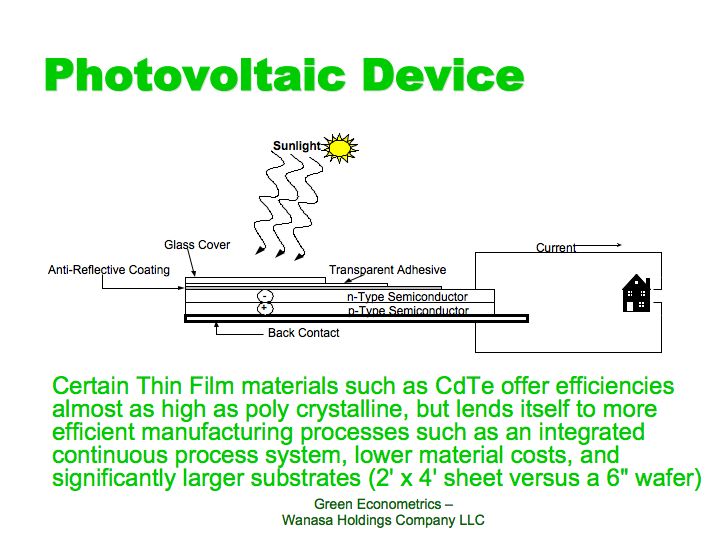 We see a dramatic increase in production capacity for solar panels that should continue to drive prices lower for solar panels. The rapid increase in production should give way to lower prices while technology improvements in silicon and thin film offer improved efficiencies in the next few years.
In comparison of the two alternative technologies for solar panels, Thin Film has a cost advantage over Crystalline. Thin Film is a direct band-gap semiconductor and crystalline silicon is an indirect band-gap semiconductor. The direct band-gap properties of Thin Film enable the material to generate significantly more electricity per unit of material. A 1-micron thick film of Thin Film can generate a photoelectric field equal to a crystalline silicon wafer 200-300 microns thick. In essence, Thin Film has a dramatic cost advantage because it uses less than 1% of the semiconductor material. However, Thin Film, because of its lower efficiency in comparison to Crystalline, requires a much larger footprint currently making it impractical for home use.
Solar efficiencies are improving providing consumers with a viable reusable energy source for their electrical energy needs. Improvements in production costs and advances in technology such new approaches to thin film solar cells are dramatically improving efficiencies while lowering cost/watt.
Hybrid energy such as combing a solar and wind energy system together are also very promising. These systems would take advantage of some weather patterns that days without sun may be windy and calm days are often sunny.
Figure 5 Fuel Cells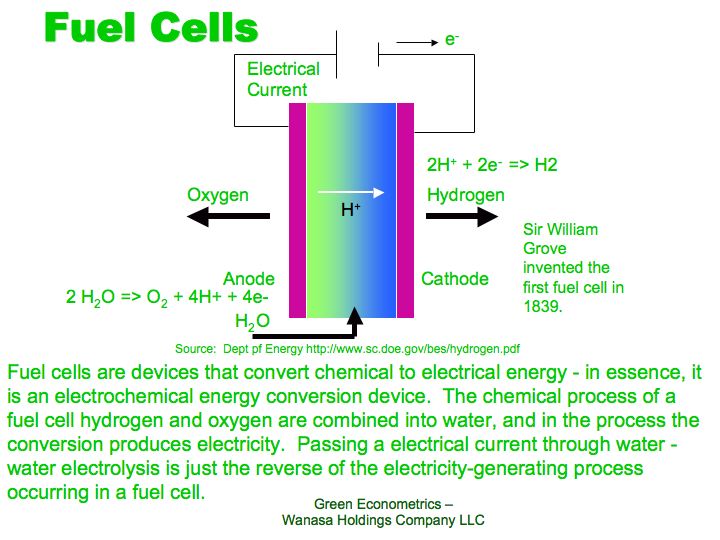 There are several types of fuel cells base on their chemical process. Some fuel cells are applicable for vehicles and others for generating electricity for homes or businesses. Two leading approaches to fuel cells are Polymer Exchange Membrane Fuel Cell (PEMFC) and Solid oxide fuel cell (SOFC).
SCFC fuel cells appear most feasible for generating electricity for factories or towns. SOFC fuel cells operate at very high temperatures which make them less desirable for vehicle use.
Figure 6 Fuel Cell Types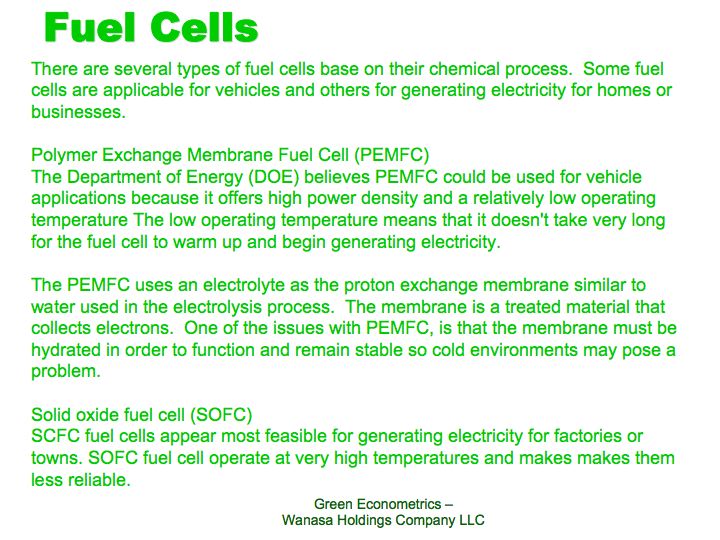 The Department of Energy (DOE) believes PEMFC could be used for vehicle applications because it offers high power and a relatively low operating temperature.
In a solar hot water system the suns rays provide heat transfer to the solar collector that raises the water temperature. In this process the water used for hot water is already at a warm temperature. Solar hot water systems minimize energy consumption for hot water use.
Figure 7 Solar Hot Water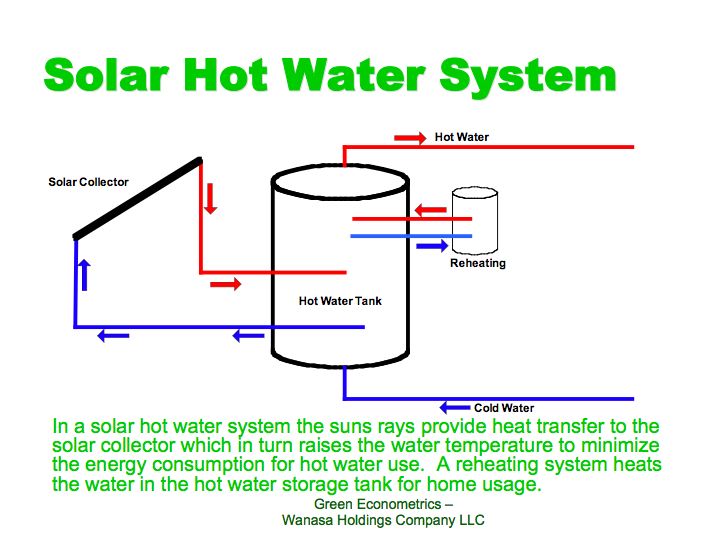 The basic issue for most home or business owners is the affordability of an alternative system. A financial model based on the economics of solar energy was used to analyze the investment return of the system.
The value of the solar energy system increases dramatically as utility electric rises. As utilities switch to natural gas, with pricing more closely tied to oil prices, the expectation for future electric rate increases is more apparent.
What does Alternative Energy mean to the average household?
Most of the people in the developed world live in urban areas making wind energy systems with large towers somewhat impractical. Wind energy systems are primarily applicable for rural areas and farms. Fuel Cells have tremendous potential, but with a focus towards the transportation market, it will be the automobile manufacturers that will be the first to introduce them such as Toyota's Fuel Cell Vehicle Toyota's Fuel-Cell Hybrid Vehicles (FCHV)
Solar energy is feasible for most urban markets with the limitation being the south facing roof space. The roof or ground space most be contiguous. Vents or pipes protruding through the roof limit the available roof space.
Solar Energy Financial Analysis Model
Solar Energy Analysis
Let's start with some basics. A kilowatt hour (KWH) is the basic measure of electric usage over a time period. The average household in the U.S. uses just over 10,000 KWH a year. The average electric bill is about $100 a month or $1,200 a year. There is considerable variability in utility rates across the country so the average bill has significant variance. In the aggregate, consumers used 1,140 billion KWH of electric equating to over $125 billion on electric in 2002. That works out to approximately $0.11 per KWH.
A typical crystalline solar energy panel generates about 10.6 watts per square foot. So a system capable of supplying roughly half of your electric needs would be a 5 kilowatt system. A 10 KW solar energy system might satisfy all of the average household's electric needs.
In our financial model, revenue generated from solar energy is equal to the cost of supplying the electric through conventional means. Our model then uses a financial time-value-of money (discounted cash flow) model to evaluate the economic benefit of solar energy. The bottom line is that without state and local utility rebates, the payback period for solar is a decade or longer. However, if electric rates increase significantly the economics of solar become more compelling.
With an annual electric rate increase of 3%, a mid-sized 5 Kilowatt solar system costing $40,000, produces positive cash flows only if rebates and government incentives exceed $12,000. Some states offer incentives including rebates. An investment in a solar energy system also produces positive cash flows, if future utility rates increases exceed 9% per year, a possibility with utilities moving towards natural gas, and may never happen if utilities stay with coal.