Alternative Energy Finance
A framework for fundamental analysis of investing in alternative energy companies.
The following link is a pdf file with a presentation covering the basic analysis of the semiconductor and photovoltaic cell companies.
Solar and Semiconductor Investing
Solar Opportunities
To understand the dynamics of solar PV cell industry it is important to analyze the underlying fundamentals of the semiconductor market from which the solar cell is derived.
According to the Semiconductor Industry Association (SIA), the semiconductor industry is quite a large market with over $240 billion in revenues. Some market segments such as photovoltaic cells, search engine processors, and analog semiconductors, the market is significantly more fragmented than the larger segments of logic, memory and microprocessors.
Figure 1 Semiconductors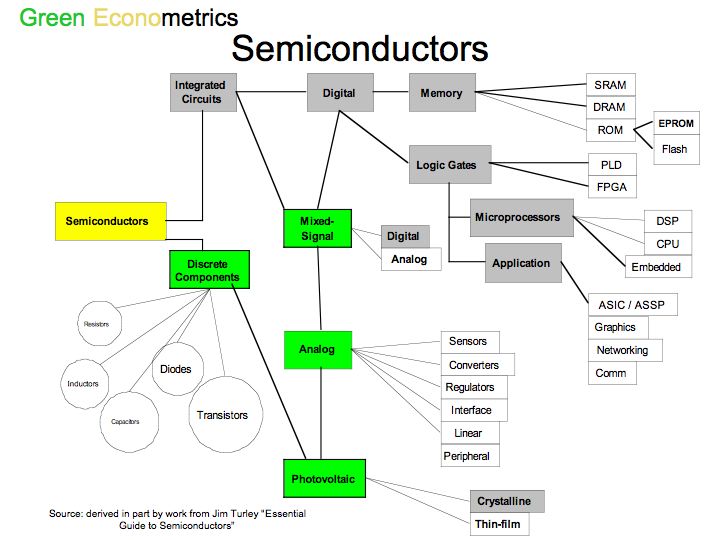 Photovoltaic cells suppliers operating in the same economic framework as traditional chips enjoying operating cost improvements with scale and production capacity. Our first step is to examine the market for industry leaders. The largest market players are often well entrenched in the their respective market leaving market entrants with challenge.
Figure 2 Chip Market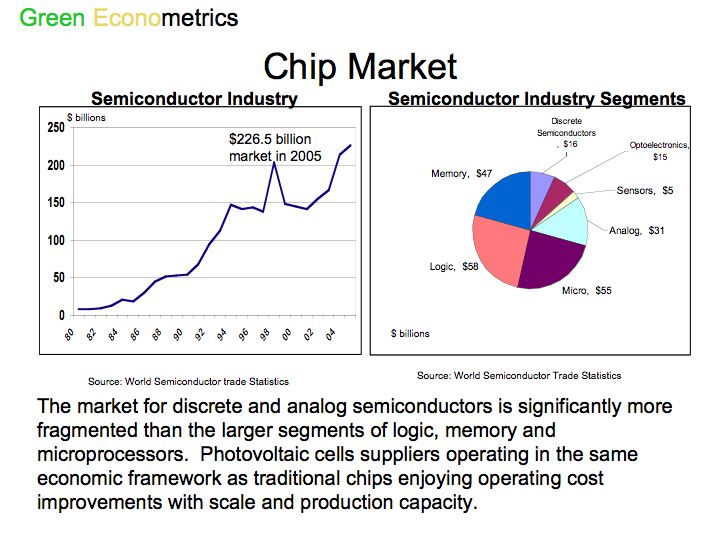 The largest market players are often well entrenched in the their respective market. Small companies with niche market focus tend to demonstrate faster revenue growth as the law of large numbers works against large companies.
Figure 3 Leading Players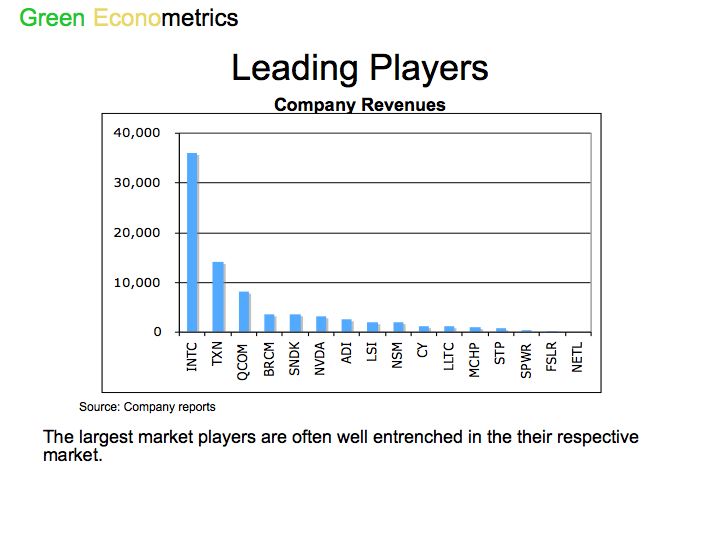 With niche players and companies that specialize in unique and highly differentiated products can sometimes out grow the entrenched players. Revenue growth on a year over year or quarter/quarter could provide insight into the market opportunity.
Figure 4 Revenue Growth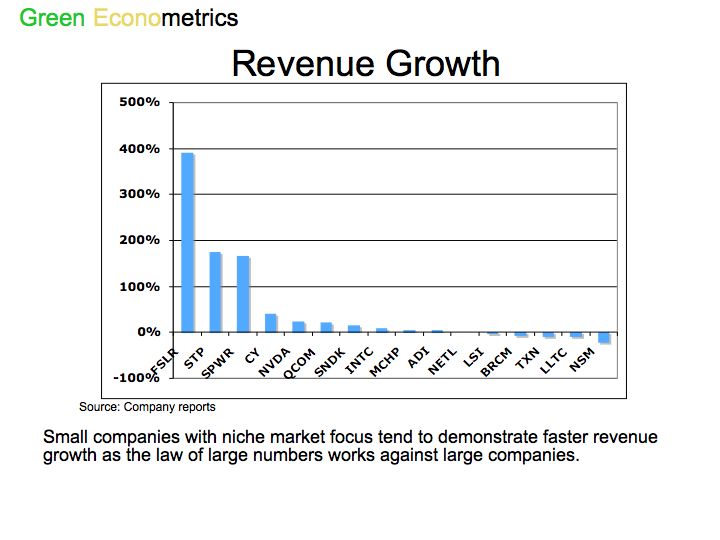 If a company occupies a niche market with a highly differentiated product, the company should to command top dollar for their product or service. A comparison of operating margins relative to revenues should provide the information on which companies are best positioned to capture higher profits. A comparison of operating margins over time and excluding onetime charges is necessary to start with a kevel playing field.
Figure 5 Operating Margins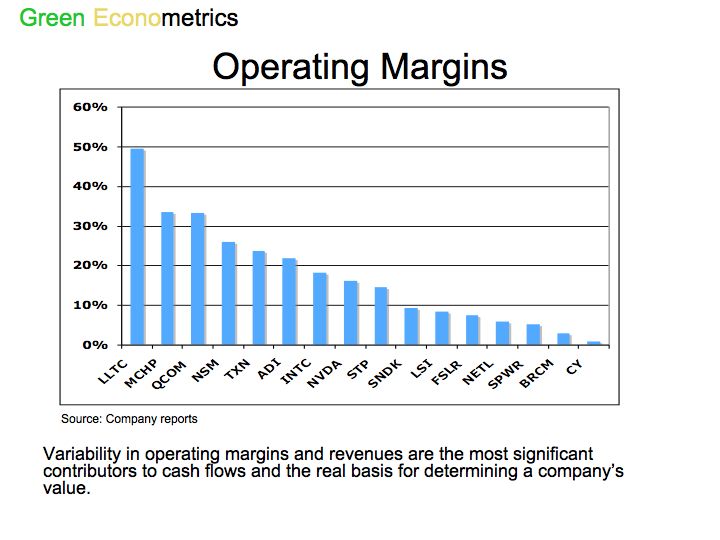 Variability in operating margins and revenues are the most significant contributors to cash flows and the real basis for determining a company's value. In theory, the more differentiated the product, the higher the price a company can command and therefore achieve higher operating margins.
Figure 6 Price to Sales Ratio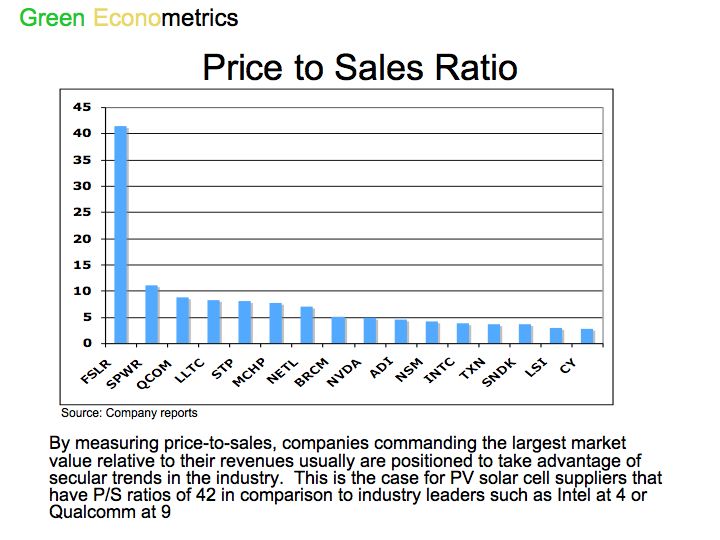 The price-to sales ratio measures a company's market value, using its stock price, to its revenues on an annual basis. By measuring price-to-sales, companies commanding the largest market value relative to their revenues usually are positioned to take advantage of secular trends in the industry. This is the case for PV solar cell suppliers that have P/S ratios of 42 in comparison to industry leaders such as Intel at 4 or Qualcomm at 9
Figure 7 PE Ratio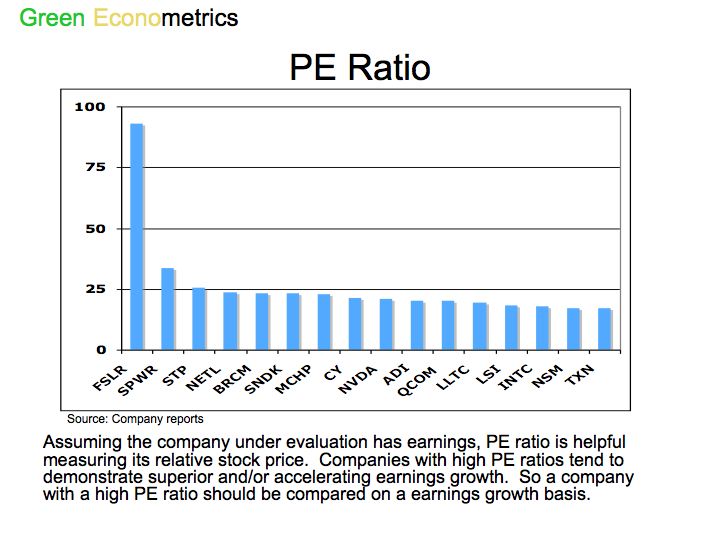 Assuming the company under evaluation has earnings, PE ratio is helpful measuring its relative stock price. The PE ratio measures the company's stock price to its earnings per share. Companies with high PE ratios tend to demonstrate superior and/or accelerating earnings growth. So a company with a high PE ratio should be compared on a earnings growth basis.
Figure 8 PEG Ratio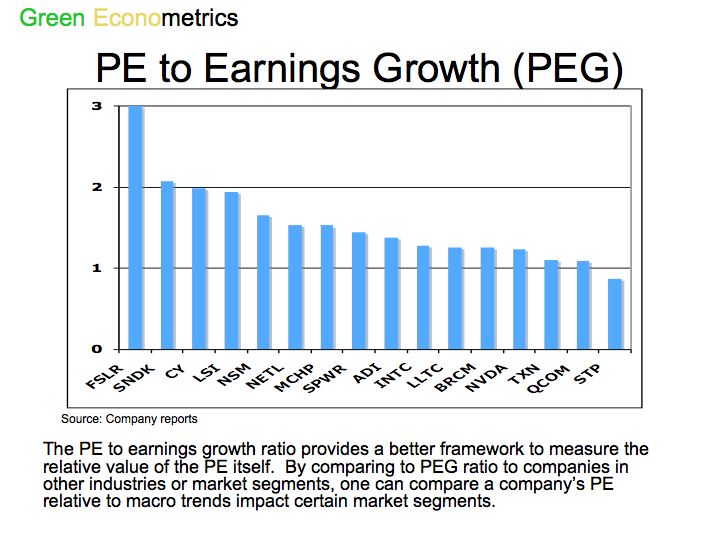 The PE ratio tells an investor how expensive a stock is relative to its earnings. What investors want to know is: the expectations for future earnings growth. The PEG ratio is the PE ratio divided by its expected earnings growth. The PE to earnings growth ratio provides a better framework to measure the relative value of the PE itself.
Figure 9 PEG Valuations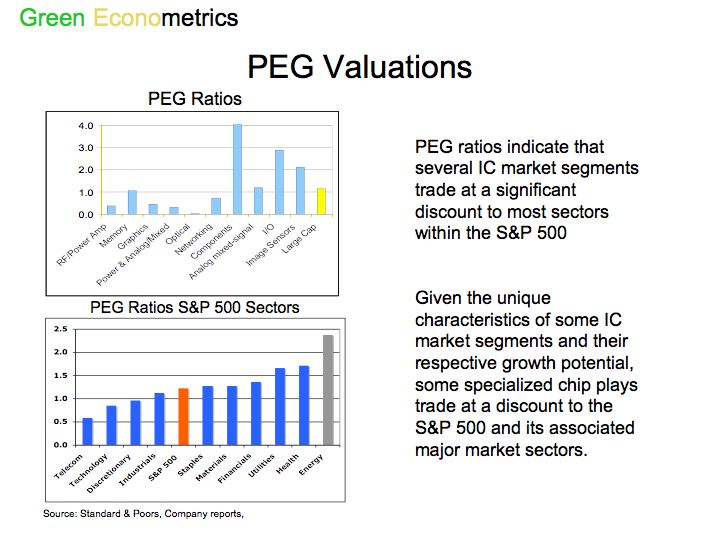 By comparing to PEG ratio to companies in other industries or market segments, one can compare a company's PE relative to macro trends impact certain market segments. Given the unique characteristics of some IC market segments and their respective growth potential, some specialized chip plays trade at a discount to the S&P 500 and its associated major market sectors.
Figure 10 Production Capacity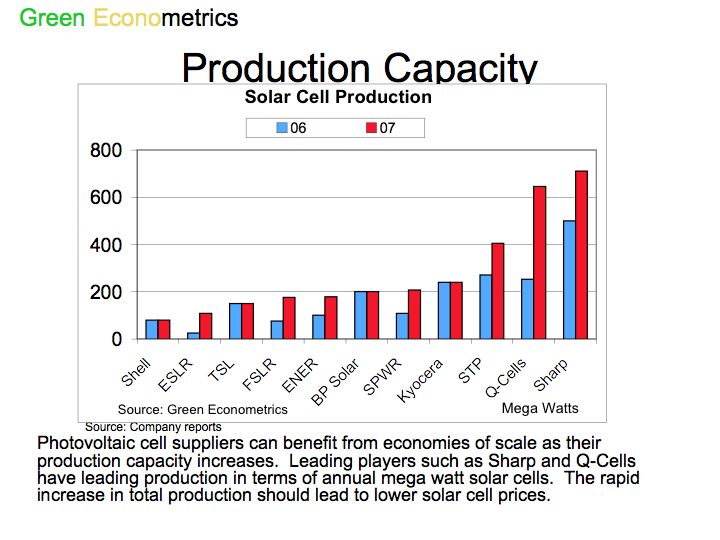 Photovoltaic cell suppliers can benefit from economies of scale as their production capacity increases. Leading players such as Sharp and Q-Cells have leading production in terms of annual mega watt solar cells. The rapid increase in total production should lead to lower solar cell prices.
Figure 11 Productivity and PE Ratios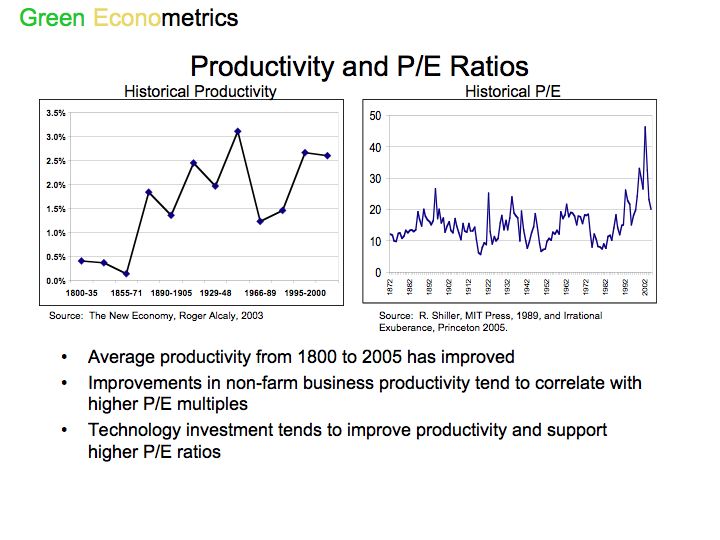 Book References
The Essential Guide to Semiconductors
Jim Turley